Phantasy Star Universe Clementine - Music Mod
This is my
PSUC Music Mod
project I've been working on for almost
3 years
. The project has been private for awhile, and has been shown to many on my past PSUC live streams.
I'm finally releasing this mod publicly for anyone to use since I've completed it on this
Version 3
update.
For now this mod will stay as
Version 3
because I want to work on hand drawing high quality textures for the game, which is coming soon on a different mod. Contact me for info~
---
This mod is 2.54GBs, it includes Back up files to revert back to original PSU.
Install Instructions:
Extract
PSUC-BGM Mod.exe
from
PSUC-MusicMod-V3_1.5.zip
and follow instructions when opened.
Once you located your Data folder and click Extract, you will get asked to Confirm file replace.
Click Yes to All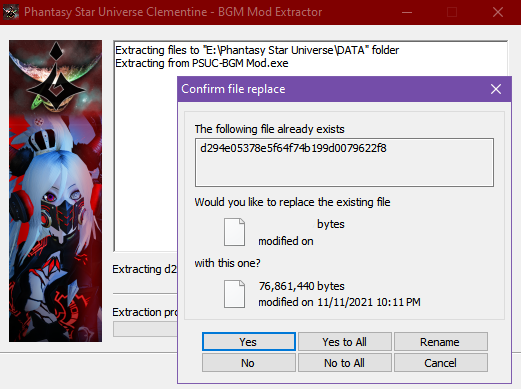 After replace, the exe automatically closes and the install is completed.
---
Optional Mods?
The
Optional UI-Mods
can be installed manually by dragging the specific files to Data folder and replacing existing files.
Preview:
---
Download Link:
https://drive.google.com/u/0/uc?id=1-CCB_D-U1GtsPZ0T3fd3uj-_k3P09Xl9&export=download